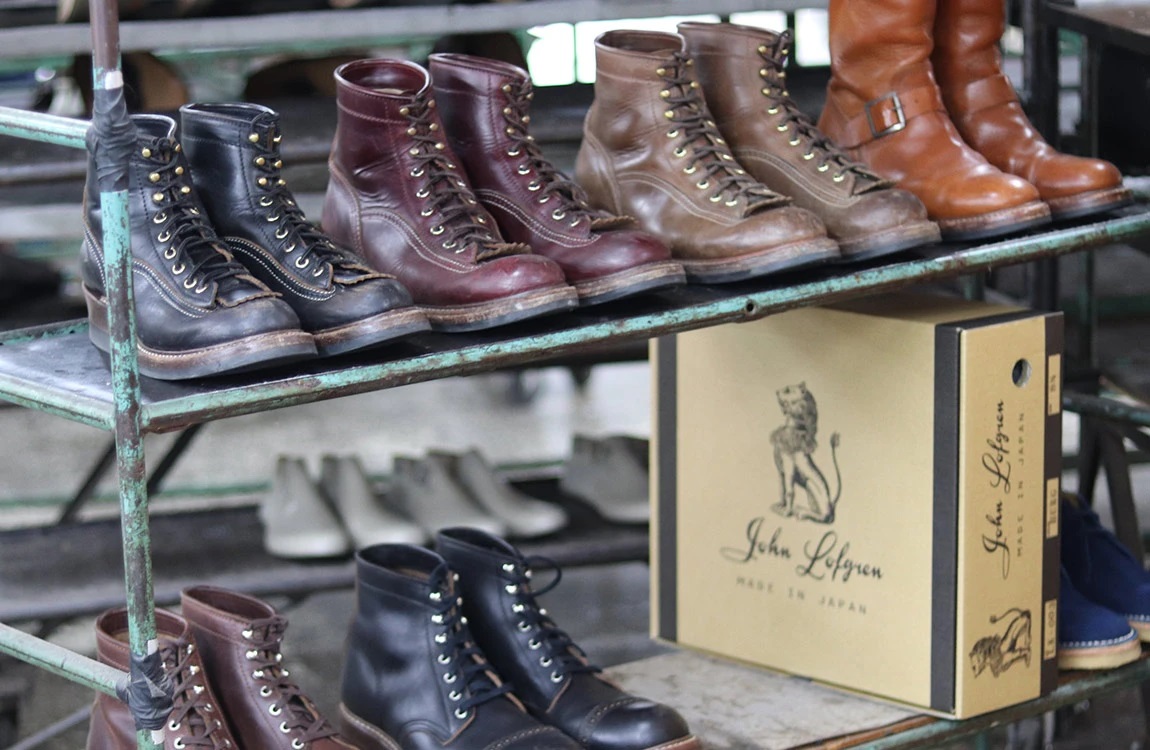 All John Lofgren Bootmaker footwear are made by skilled craftspeople that are specialized in their own step in the production process, thus resulting in a superlative boot and shoe. These people are not just production line workers, they're Shokuninkishitsu (職人気質), people dedicated to mastering their particular craft.
Most of our boots and shoes are made using the serviceable Goodyear stitch construction method. Our Military Desert Boots are made with a 360° Stitchdown technique which best compliments the crepe sole.
1. Leather Selection
We begin by choosing leathers of the highest quality and perfectly suited to the character of each product. How the leather will age is also an important consideration. The goal is for the leather to look and perform better over time. Our leathers typically come from Japan, USA, Italy, France and England.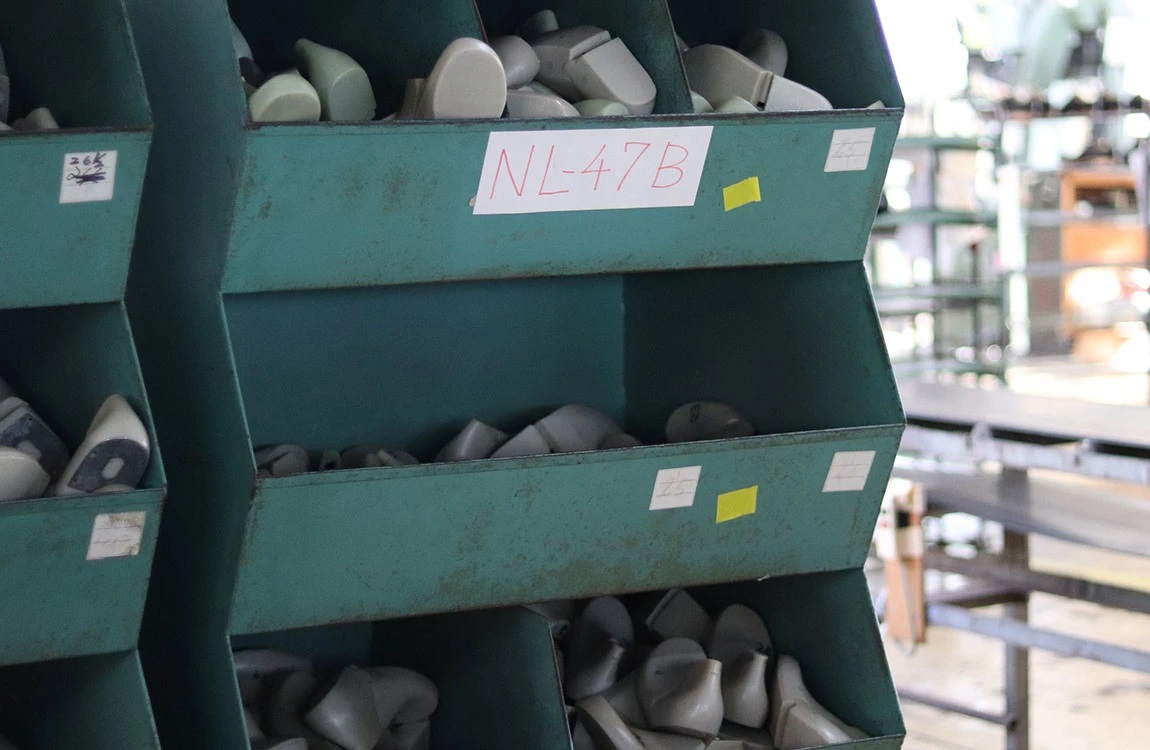 2. Last Selection
The last is one of the most important determinants of comfort. And John Lofgren Bootmaker footwear is renown for comfort. Most of our lasts are based on vintage footwear, but they're not simple imitations. Each of our lasts are the result of a long process of perfecting superlative comfort with a classic silohuette. The final stage is only cleared when John consents to each last's comfort.
3. Cutting
Since leather is a natural material, the appearance and quality varies considerably across the hide. Accordingly, decisions regarding which areas of a hide should be used for each section of a boot or shoe are made by the carefully trained eye of our craftspeople.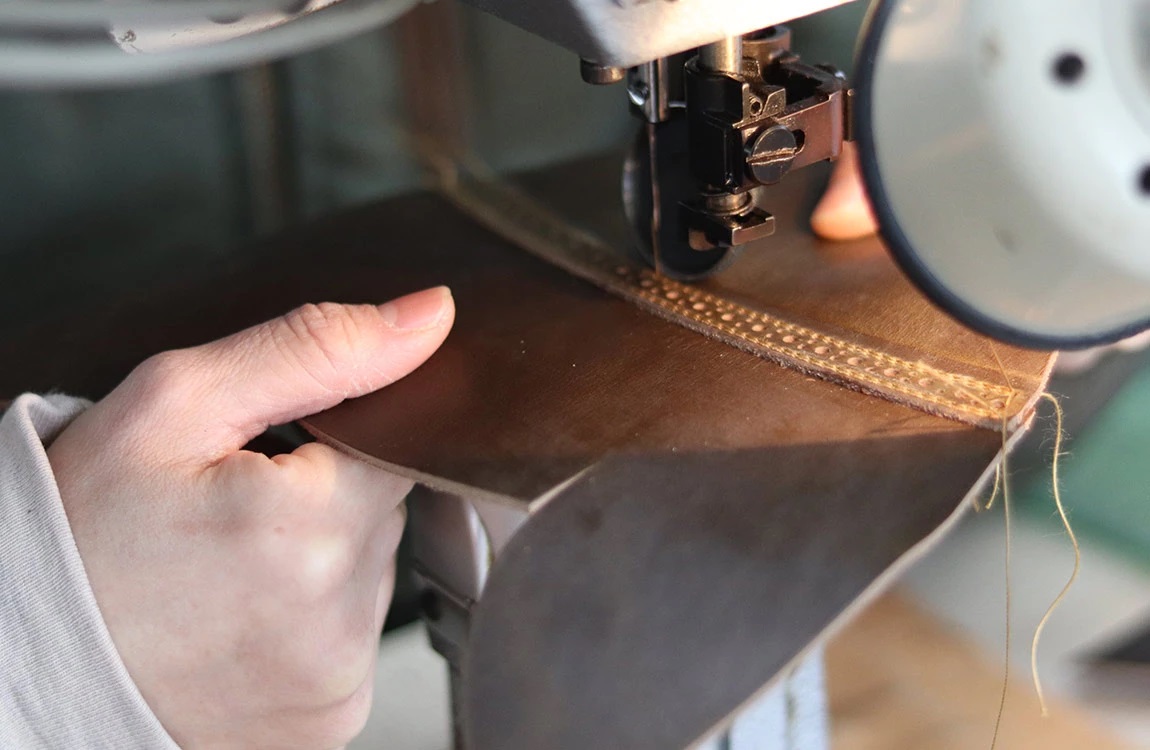 4. Sewing
Stitch work is not only functionally important but also a critical component of footwear design. John Lofgren Bootmaker products aim for stitch work that ties together an integrated aesthetic. In addition to our specifications for a high stitch-count, we also carefully select the thickness and color of thread for each boot and shoe design. Each stitch is performed with utmost care and passionate attention to detail.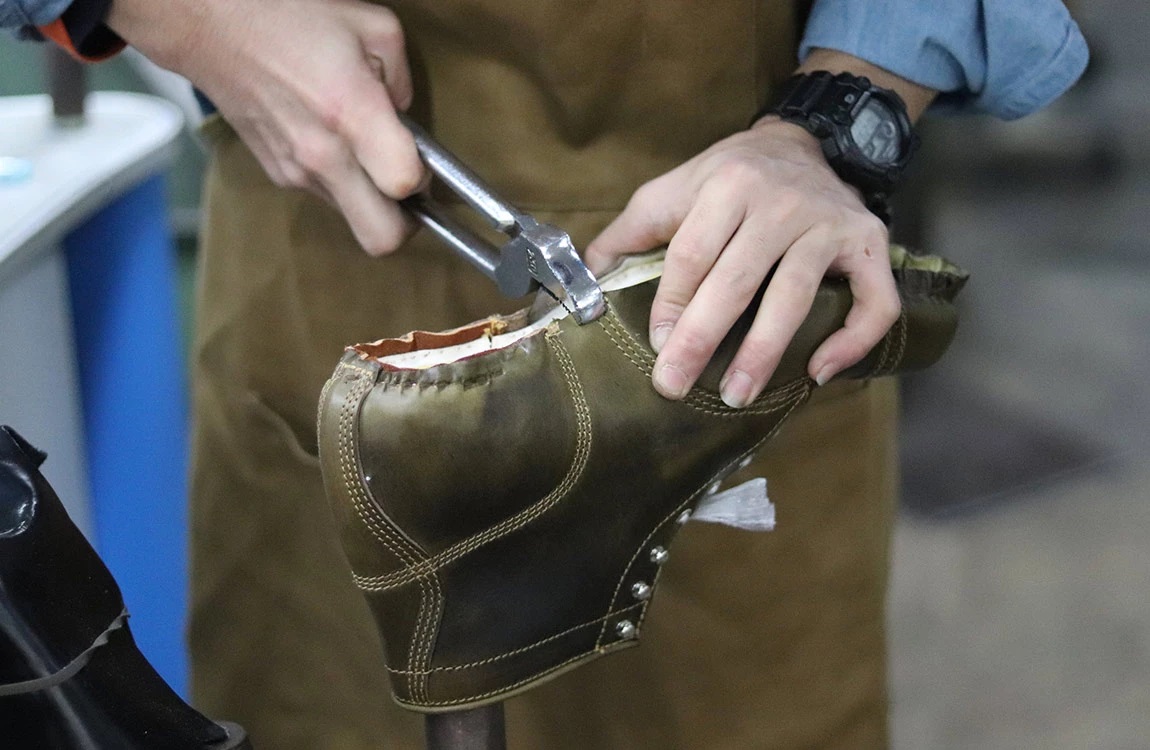 5. Lasting
In the lasting process, an insole is temporarily fixed to the last and the sewn upper is brought together around it. Since this process can critically affect the comfort of a shoe or boot, it is imperative that steady hand pressure is maintained on the upper as it is fitted to the last. This is also important for ensuring that the size and shape of both boots and shoes is identical. Our experienced craftspeople guarantee that the left and right shoe of any pair does not differ even slightly.
6. Goodyear Welt Construction
The formed-around-the-last upper and a rib created on the insole are then "welted" together – that is, a lockstitch is sewn through a welt that serves to bind the upper and insole. Although this stitching will not be visible on a finished boot or shoe, it is the critical basis of the Goodyear welt, and one of the keys to a boot or shoe's stability, comfort and durability.
7. Shank and Cork
A metal shank and cork filling are then fixed to the boot or shoe by a craftsman with years of experience. This process improves the comfort and durability of our footwear by fortifying the interior of the shoe and allowing each pair to form to the owner's foot.
8. Outsole
Next, the upper and sole are brought together, first by carefully cutting the sole down to size by machine. The outsole connects you to the ground so the highest quality outsoles are used on all John Lofgren Bootmaker boots and shoes. Our outsoles are typically made in the USA and Japan.
9. Outsole Stitching
The outsole is then sewn to the welt. This is a critical process in which the skills of the craftsman really shine. Only a few craftsmen have the skill to finish the visible stiches in a clean aesthetically-pleasing manner. John Lofgren entrusts this task to one highly-skilled and passionate cobbler.
10. Heel
To securely fasten the heel to the outsole we not only use nails, but also an adhesive is applied that is then heated. This bonding technique ensures there will never be an issue with heel and sole separation even under the harshest circumstances.
11. Edge Grinding / Coloring
The edges are ground with a high-speed rotating blade. This grinding process is completed in three phases, from rough to fine. There is no template to guide this process so the final product depends entirely on the expert instincts of the craftsman. Leaving more of the edging in some instances is used to create more volume, while further grinding in other areas can provide a sleeker line. In either case, the skill of the craftsman is on full display.
12. Finishing
After cleaning off any oils or debris accumulated during construction, cream is applied and the boots or shoes are polished. Next, insoles are inserted, and then lacing.. The last step is a final inspection in which each pair is thoroughly examined for any imperfections.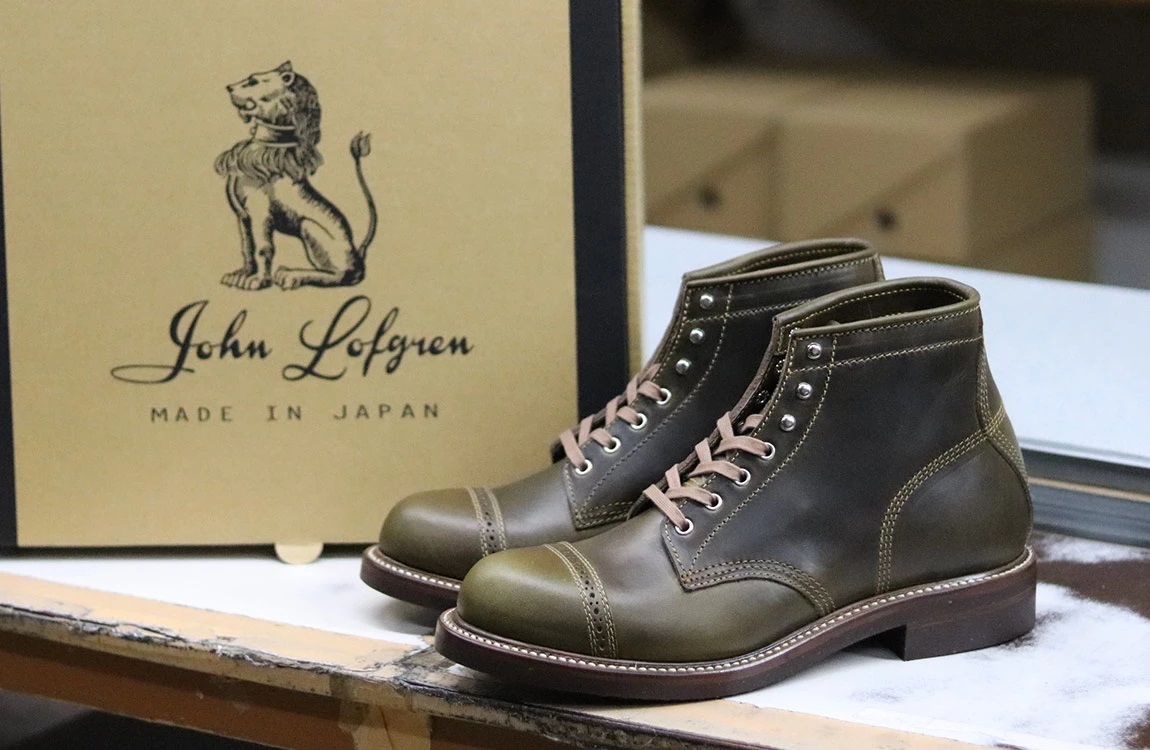 13. Completion
The boots or shoes are finished and are ready for worldwide delivery to our retailers and customers.
*Please note that these descriptions only introduce the most basic of the many, many steps and countless hands behind the manufacturing of John Lofgren Bootmaker boots and shoes.