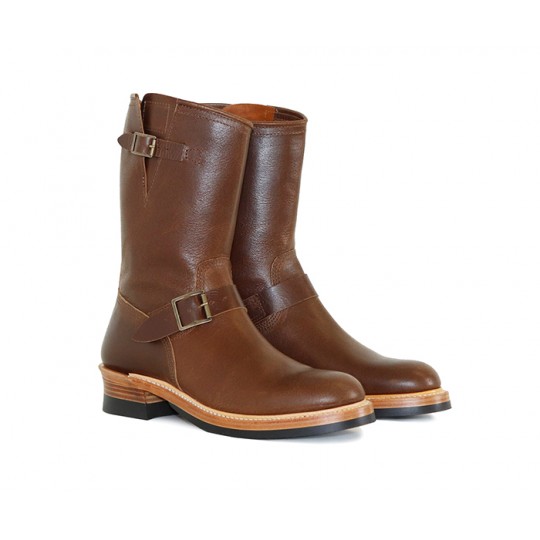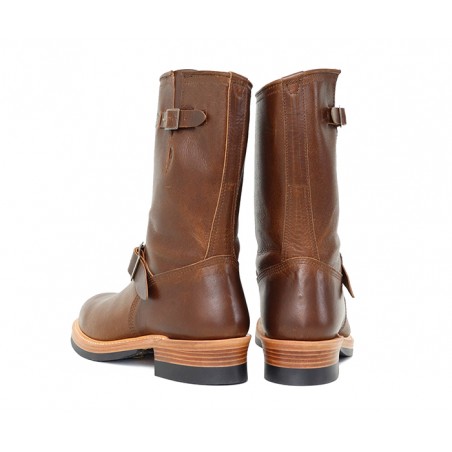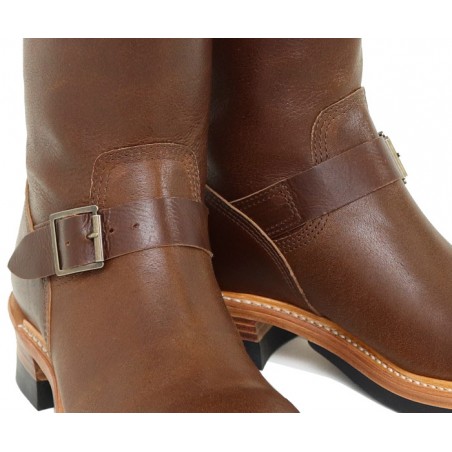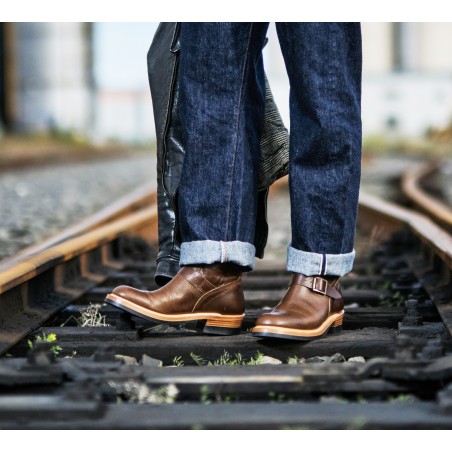 ENGINEER BOOTS - BURNISHED ROUGHOUT HAVANA
Order now for December 2020 delivery.
Call our sales office on +44 (0) 1752 896874 to make your reserve order with a 10% deposit.
Horween USA Chromexcel hide
Built on original lasts in Japan
Stack leather 'Woodsman' heel (Japan)
Goodyear storm welt (UK)
Steel Shank
Triple stitched at high stress points
Hand-stitched shaft seam
Vibram soles (USA production)
Pressed-steel buckles
Shuttle-loom woven labels
Available in half sizes 7 - 11 (US sizing, which comes up large to allow for thick socks)
Made from Horween horsehide they are available exclusively from JLB only. This horsehide goes through Horween's 28 day Chromexcel tanning process that requires 89 steps to complete. Unlike most footwear, this boot is produced with the topgrain of the hide on the inside, and the nap side on the outside - otherwise known as 'rough out'.

This method of construction was often used by the military, as having the nap on the outside made the boots harder wearing.  To make the boots more water repellent many servicemen would impregnate the rough-out hide with layers of boot polish and wax. This would build up over many applications and take on a unique burnished semi-roughout appearance, and this is exactly what we have recreated with this model. The rough out has been waxed and burnished to produce a unique glazed finish that lustres with a beautiful vintage patina. As the boots are worn this patina becomes accentuated giving them even greater rugged looking vintage appeal

John Lofgren Bootmaker Engineer Boots are based on careful examination of several pairs of vintage engineers from John's archive. Hours and hours of design, redesign, and more pattern adjustments and sample builds than anyone could possibly tally. The end result represents "Made in Japan" at its finest – painstaking attention to detail, master craftsmanship. Our engineer boots stand as the masterpiece of the John Lofgren Bootmaker lineup, a boot that conveys the passion and commitment to excellence of our brand. These are the pinnacle of engineer boots.